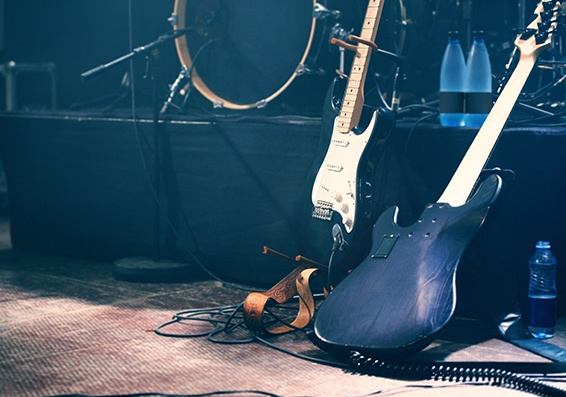 For the self-employed, prolonged illness can turn into a business disaster. A week off sick is manageable, but what if it was two years? Learn how the right income protection advice kept one Auckland musician's world from coming crashing down when his health took a turn for the worse.
Sometimes life comes at you sideways
Business owner and Auckland School of Rock Director, Gareth Moore, had always been fit, healthy and high-energy—an ideal combination for delivering music programmes to kids. Yet, his energetic life took an unexpected turn in December 2015 when he collapsed and was diagnosed with a rare neurological condition in his spine.
A month later, he left hospital facing a new, unexpected reality: one to two years in which he would not have the strength, energy or movement to work.
"They fought for me at claim time"
Luckily for Gareth, BRAVEday had set him up with an income protection policy with Sovereign a few years before.
"I met Dean at a business challenge event," explains Gareth. "He got up and explained to all of us there why income protection insurance was a good idea. I booked in a consultation from that and he came around and explained it further. It made a lot of sense and I trusted him, so I signed up."
I had a few policies—trauma, life, income—but I wasn't sure what I was covered for," he says. "I was still in hospital and in a bit of daze. So, my wife, Julie, called BRAVEday to find out if they could help."
From there, BRAVEday took up the claim and sorted it out on Gareth's behalf. There was no lengthy paperwork to fill out, or back-and-forth phone calls and emails to decipher insurance jargon. In fact, all the family had to do was provide Gareth's identification and complete a single claim form.
"It was marvellous. You really felt cared for. Dean even came to visit me in hospital," Gareth says. "You don't expect your insurance broker to turn up at your bedside to find out if you're all right, but he did."
Above and beyond
Since the Moore's were located on Waiheke Island in Auckland's Hauraki Gulf, BRAVEday also successfully advocated to have Gareth's treatment travelling costs to Auckland covered, along with a gym membership for his rehabilitation.
Moreover, after further researching Gareth's condition, BRAVEday got in touch with the new service, Best Doctors, which enabled Gareth's records and scans to go to a neurological specialist in America for a second opinion.
"Tania [at BRAVEday] made sure that she and the team were regularly in touch," says Gareth. "They were always caring and asking if there was anything else they could do."
On the road to recovery—and another stage
Today, Gareth is on the mend and working a few hours a week. Still suffering from fatigue he's unlikely to return to full-time work for another six to 18 months and will continue to receive income support until he is medically signed off as fit to work.
"The mind's going 100 miles an hour, but the body is just not keeping up. I've had to learn to work and live within new realities. It means I can't contract anymore, and I can't really take on a full-time job as a PAYE," Gareth says.
"Having income protection saved our lives really," he adds. "I don't know what we would have done, to be honest. Everything just came to a grinding stop."
Gareth has taken the opportunity to set his sights on a new goal—completing a part-time postgraduate diploma in secondary education at Massey University.
"With my love of music and the performing arts I've gone back to get my teaching certificate."
While Gareth's plans for his career didn't go quite to plan, having income protection has given him options he would never have had otherwise. It's been the safety net that's shielded the Moore family from financial hardship, while giving Gareth time to recover, change tact and answer a new calling. Of course, it's still early days, but it sounds like Gareth's energy is on its way for a rocking comeback.
Do you have a backup plan if you suddenly find yourself unable to work? Learn how income protection insurance can keep your head above water with our free guide.