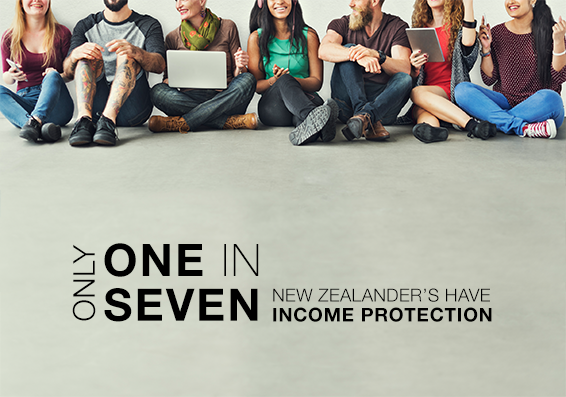 Horizon research has shown that only 1 in 7 Kiwi households have income protection insurance, and we're asking ourselves "why so few?".
According to research undertaken by Perceptive in 2017, only 25 per cent of New Zealanders with a household income over $70,000 have income protection insurance.
Therefore, hundreds of families would be vulnerable if a major long-term illness stopped the primary earner of the family from working.
Could yours be one of them?
Want income protection explained further? Get the free guide!
1. "Income protection costs far more than I can afford."
Pretend that you have a piece of equipment that is absolutely essential to your job. If it got broken or damaged, you couldn't run your business or produce anything for your employer. Even worse, that piece of equipment is so unique that if it broke, you'd be hard-pressed to find repairs or a replacement.
Now imagine that piece of equipment generates about $1 million of profit over the course of 20 years for you.
Wouldn't you be happy to invest in insurance for that equipment, to avoid losing out on that $1 million, or having to dip into your savings for expensive repairs?
If you're nodding your head in agreement, then here's a surprise: we just described your own body.
This is the irony of income protection. People are often happy to spend on business insurance or health insurance or home insurance, but balk at the price of income protection. The fact is that it's no different from insuring a very specific, very particular and very delicate piece of equipment.
It's not about how expensive income insurance is (and often it isn't), it's about how much you'd stand to lose without it.
2. "ACC will cover me."
ACC only covers accidents, and then only in the workplace. If you are suddenly unable to work because of a non-injury (such as a serious illness) that strikes outside of the workplace, ACC will not cover you.
Even worse, the situation gets especially complex if you are self-employed. Self-employment generally implies a variable income, which means that it can be difficult to prove to ACC what your usual income actually is—making it nearly impossible to choose the right kind of cover from them.
If you make the wrong choice, it's all too easy for the ACC to deny your claim, or give you less than you or your family actually need.
ACC is great—but it doesn't cover everything for everyone in every situation.
3. "I'm already covered under one of my other policies"
If you have a diverse insurance portfolio already, you will likely already have some of the following:
Life insurance
Health insurance
Total & Permanent Disability insurance
Trauma insurance
Under these policies, you may have noticed some parts that seem to be overlaps with income protection—particularly total & permanent disability or trauma insurance.
That could bring you to believe that you are already covered in all cases that result in an income loss.
That is far from the reality.
The truth is that these are specific policies that may share some features with income protection, but there is no policy out there right now that can protect you from the specific risks of loss of income more than income protection.
If you rely on other insurance policies to cover you, you may find that something like a severe illness that knocks you out of the workforce for six months isn't covered.
Similarly, trauma insurance generally only covers physical trauma. Considering how frequent mental health claims are (they are our most common claim by far), you could be left high and dry if your high-stress job proved to be too much and you had to drop out of the workforce.
Having a diverse insurance portfolio is great, but it may not protect you from a loss of income as well as you might think.
4. "I won't be covered for pre-existing conditions if I sign up now"
While it is true that most insurers will exclude any pre-existing condition that is disclosed, they will often review the exclusion in the future.
The most important thing with exclusions is to be aware of what they are, if they are reviewable, and to ensure that they are reviewed as soon as possible. A good adviser will take care of this process for you.
Occasionally, as an alternative to an exclusion, a longer stand down period may apply before a claim can be accepted on a specific condition.
With income protection insurance (and with insurance in general), it's critical that full disclosure is made so that you understand any limitations on the policy.
Pre-existing conditions shouldn't deter you from taking out a policy. You never know what is around the corner, or what could prevent you from working. The sooner you take out income protection, the fewer exclusions you are likely to have.
Summary
Income protection insurance is designed for one thing and one thing only: to protect you and your family in case you are forced to leave the workforce. Without it, you are at considerable risk.
Don't get caught up in the myths; make sure you have the protection you need.
For more information on income protection insurance, download our free ebook below.