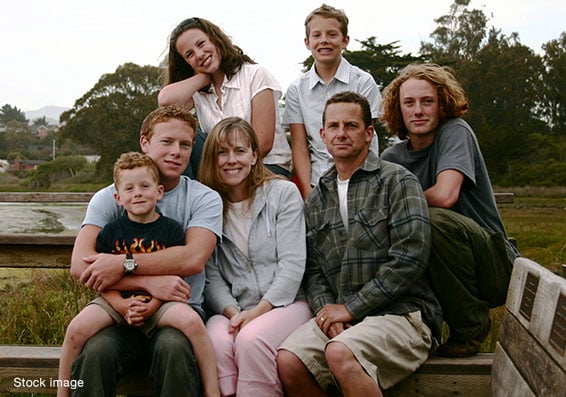 On the fence about whether to buy life and trauma insurance for your children? Here are five reasons why getting in early can pay dividends later.
1. Give them a head start in their cover
If your child is covered early in life they are unlikely to have any pre-existing conditions that would limit claim capacity (and treatment options) and drive up premiums. Moreover, should any illness befall your child during their life, they'll be covered, no matter what age the y are.
2. Lock in low rates early
Insuring your child from early in life means that their premiums are not only lower, but it gives you the opportunity to lock in their premiums at a fixed (and very affordable rate)—known as Level Premiums—meaning they'll pay less in the long run. Meanwhile, should you choose a standard (also known as a Stepped) premium rate, you (or your children) will pay less initially, but the cost exponentially increases as you age.
A case study: Lianne Williams and family
Years ago, Lianne put in place Trauma Cover for her five children. Today, four of her children have turned 21 and it was time to upgrade their policies to full adult cover.
With the help of BRAVEday, Lianne converted her kids' trauma policies into adult policies of life insurance (level to age 80) and trauma cover (level to age 65).
Lianne's strategy to insure her children earlier is one we encourage all parents to consider since the premiums are so low. Moreover, because each child had a policy from a young age, when they upgraded to adult policies, they had no exclusions and no underwriting. Lianne and her husband currently pay for these policies, which are inexpensive, and they will eventually pass the ownership and responsibility for paying the premiums onto each child. By doing this they have locked in long-term affordability and also—very importantly—cover with no exclusions.
3. Peace of mind for you
We don't like to think of our children not outliving us, but misfortune can and does happen. In the event of a child's death, having life insurance can help ease the stress of the situation and free you from the burden of unexpected funeral costs.
Given that funerals usually cost between $8000 to $10,000 in New Zealand, having this cover brings peace of mind when you need it most.
4. More affordable than you think
Children don't need a life insurance policy in the tens of thousands—$5000 to $15,000 should suffice. And because there are likely to be no exclusions, the premiums for a child's life and trauma cover will be low—as little as $3 to $4 per month for life cover and $8 to $9 for trauma.
A case study: More than life and trauma; health too
In addition to the kids' life and trauma cover, each of the Williams children moved off the family medical policy once they turned 21. They now each have their own personal medical insurance policies. Currently, their parents still pay the bill, but soon they will take over this as well. And again, because it is a continuation of a childhood policy, they have no exclusions, which puts them in excellent stead for the years to come.