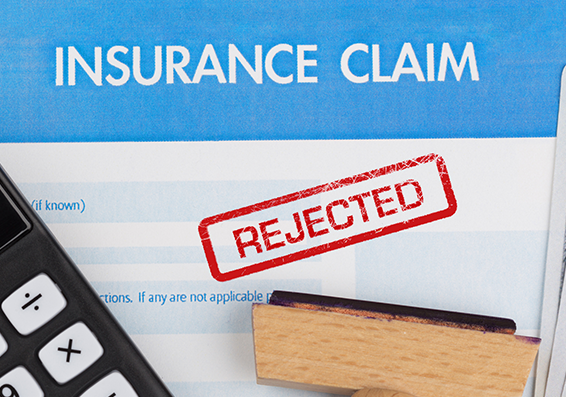 Income protection insurance is a tricky beast. Unlike life insurance, which is clearly defined and fairly simple to navigate, people can—and do—get caught out with their income protection cover. The stats prove it too: nearly 25 per cent of all income protection claims are rejected.
If you're planning on taking out income protection insurance—and we highly recommend you do, especially if you're self-employed—here's how to make sure you don't end up with a rejected claim.


1. Understand your provider's definition of disability
It's also common to see claims lodged for disabilities that don't meet their insurer's definition of disability. In the insurance world, disability is often defined as when a sickness or injury makes someone unable to engage in their own occupation for more than 10 hours per week.
A regular Jo Bloggs, however, might see it quite differently. Perhaps a sickness or injury has forced them to work part-time hours for a month. If they submitted a claim in this instance, they would not be eligible for a payout because they are working more than 10 hours a week.
2. Do your due diligence
To avoid a rejected claim, it pays to do due diligence when you first take out an income protection policy. To help, here are a few considerations to keep in mind:
Does your policy state that you are only disabled if "in the opinion of the insurer" you meet that definition?
Policy wording matters. If you see this, be aware that your insurer has the final say on whether you're disabled or not.
In a nutshell, look at the wording of your policy closely.
Tip: review all the terms in your policy document. The definition of terms such as Income, Unable to Work and Pre-existing Medical Conditions can vary between insurances.
Does your insurance company have internal medical experts?
If so, they might have the final say, regardless of what other medical practitioners put forward.
How long will your provider cover you for after you have to stop working?
Most insurance companies will provide two to five years of payments, or to the age of 65 if you're left permanently unable to work, say from a stroke.
Can you still claim when a pre-existing condition is directly or indirectly related to your inability to work?
It's important to note that pre-existing conditions can affect your cover in four ways:
Covered at no extra cost:

if the condition is low-risk and you haven't had any recent problems.
Covered, but with higher premiums:

if there is a moderate risk, but your provider feels it is not unreasonable, your pre-existing condition may be covered, but at a higher cost.
Exclusions:

you may find that you provider will cover you, but will exclude your pre-existing condition from it. This is especially relevant to mental health disorders, and

New Zealand Law Society reports

that it is not uncommon to see exclusions such as:

"Should disability occur to [XYZ] as a direct or indirect result of any anxiety state, depression, stress or functional disorder, or complications arising therefrom, then no income protection or waiver of premium benefit shall be paid."

No cover:

if your condition is severe, you may find that insurance providers won't cover you at all. It is one reason why it's a good idea to secure income protection early in life when you are statistically more likely to be healthy and well.
As a rule, always double-check what your policy covers, especially if you have a pre-existing condition.
3. Disclose everything
Not informing your provider of a pre-existing condition when you initially set up your income protection insurance can disqualify you later down the track—even if you lodge a claim that has nothing to do with your pre-existing condition.
In 2015, a Mr G made a claim to his provider, citing that he'd been unable to work for a month due to depression. However, because Mr G did not disclose a fatty liver condition when he set up his policy, his claim was rejected on the basis that the insurer would have deferred all cover had they been aware of Mr G's medical history.
4. Seek a medical diagnosis before you claim
Submitting a claim for an illness or injury that is not medically diagnosed is also grounds for rejection. This is particularly relevant for mental health income protection claims, where conditions such as depression, anxiety, and even stress, are often left undiagnosed.
Rule of thumb: make sure you're adequately diagnosed before you request a claim. Self-diagnosis will result in a rejection.
---
Finding income protection that covers pre-existing conditions can be difficult, but as long as you declare any pre-existing conditions, read your policy thoroughly, and check that both you and your provider are on the same page, you can rest easy with your cover for years to come.
To find out more about income protection insurance and how it can protect you at your most dire moment, download our free ebook below.