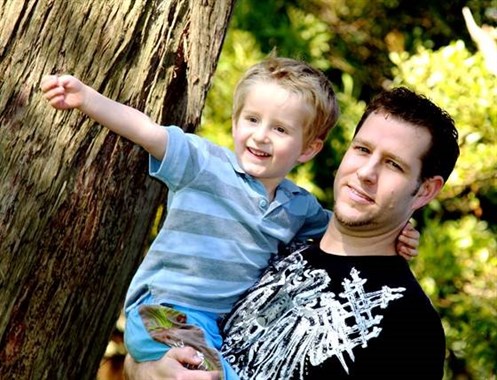 When your backs up against the wall, that's when you thank all your lucky stars that you met Dean Young!
I met Dean in 2009 on a business challenge. Such a good guy, and spoke through my insurance needs in a way that made sense and never complicated anything - then I got on the with job of running my business. Like most people probably do, I remember at times over the next few years going over the monthly bills with my wife and wondering if we really needed these premiums,
after all we were fit, healthy, and lived in Aotearoa where the State hospital system and our Southern Cross would look after everything??
In Dec 2015 I came back from running my summer
music camp and collapsed in the middle of the street. The next month was a blur of being in hospital, having transfusions, and all sorts of other scary procedures while I was diagnosed with a rare neurological condition in my spine. Getting back home in January and realising that I now didn't have the strength, energy, or movement to work, as well as being told that I would need a recovery period lasting 1 - 2 years totally freaked me out. This just couldn't happen; I had always been really fit and healthy, with a reputation for getting heaps done and tongue-in-cheek nicknamed 'energiser bunny' for my previous levels of vitality and passion in my work. It was like I had turned 40 and suddenly fallen apart!
I relied on being a PAYE 'owner-operator' for my income, and the illness I had was not a workplace injury (i.e. no ACC) and wasn't covered by my Southern Cross insurance. My wife made the good decision to ring BRAVEday and see if there was anything they could help with.
What an incredible company! BRAVEday's pledge that THEY WILL BE THERE FOR YOU AT CLAIM TIME is no idyll boast, they really swing into action when you need them. Tania Young and the rest of the BRAVEday crew worked so hard to make sure Julie (my wife) was hand-held every step of the way through the claims process and advocated on our behalf as our strongest lawyer with the insurance company. It was pretty cool to receive a visit from the company CEO (Dean) in my hospital bed just to check that I was okay and that I had everything that I needed, great guy! Once they had gone into bat for us and we received insurance to live on each month I assumed they had done their job, and that we wouldn't see or hear from them much more, but Tania made sure that her and the team were regularly in touch, always caring and asking if there was anything else they could do. She advocated on my behalf with the insurance company to get travel paid (I live on Waiheke Island) to Auckland for health check-ups and appointments as well as a gym membership for rehabilitation. Even better than that, Tania did some deep research that tapped into a new service (previously unoffered) called Best Doctors that enabled all my records and scans to be sent to a top neurological specialist in America for a second opinion. Down the track this was to prove invaluable in discussion with my care team at Auckland Hospital.
Now 10 months on and starting the process of getting back to work with an OT, Julie and I look back and thank our lucky stars every day for that meeting Dean back in 2009 (Our company won that business challenge by the way!) Without Dean, Tania, and the BRAVEday team not only would we have had to shut down the business (we were able to get management in place during my sabbatical) but stupidly we had put all our savings back in the business for growth and cashflow, so there was no way we would have been able to live or look after our family without them. It's fair to say without BRAVEday on our team life would have come crashing down around us in a very dramatic fashion.
I have this year asked two of my best friends in the world to sign up with BRAVEday, and will continue to recommend this amazing company to everyone I meet. I cross my heart never to doubt or cast aspersions on the true value of paying those monthly premiums ever again!

Gareth Moore
Director
Auckland School of Rock