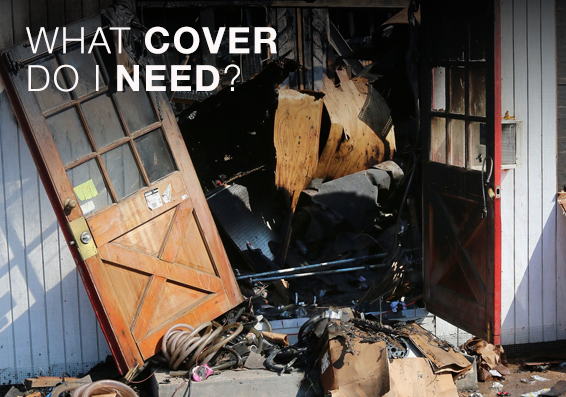 What would happen to your business if a fire or natural disaster wiped out your premises along with any stock you had stored there?
This year was predicted to be the most expensive year in insured losses for weather and disaster related events in nearly 50 years. In the first quarter of the year, more than $174 million was paid out to businesses and people, according to the Insurance Council. That figure was already triple the total amount paid out in 2016.
This is why trade business owners should wrap stock and premises protection into their insurance policies.
What cover do I need?
You will need a policy that specifically covers your business premises and its contents.
In most cases, this is called a Material Damage policy, but some providers merge it with their Business Assets cover.
This policy will insure you for "sudden and accidental" losses caused by unexpected events, including natural disasters, fires, and other accidents.
Cover is not included for damage that is gradual in nature or foreseeable, such as gradual deterioration, rot or mildew, and corrosion or rust.
It operates in a similar way to home and contents insurance in that you will make a claim based on the damage to the premises and any other losses.
The purpose of Material Damage cover is to reinstate the lost or damaged asset, as though the insured event had never occurred.
"The assets of your business often represent a large capital investment, such as buildings, equipment, machinery or stock," says BRAVEday insurance advisor Kane Butler.
"A Material Damage policy is designed to protect these assets in the event of a disaster."
Keeping on top of assets
It's very important for businesses to know the value of the stock, machinery, and computer equipment on the premises to ensure that they're adequately covered.
"If your stock levels fluctuate, your policy needs to reflect this," Butler says.
"Reviewing your business assets annually is critical to ensure the correct cover is placed each year when the policy renews."
Extensions and exclusions
As with any insurance policy, it's important to read the small print and talk with an adviser about any caveats and exclusions in the policy.
For instance, some policies require you to purchase an additional policy extension for natural disaster cover. Others will require you to add extensions for property that's in transit (portable electronic equipment, for instance).
You also need to clarify if the cover is for material damage to property anywhere in New Zealand, or whether it's specific to your premises.
Does your trade business have all its bases covered? It pays to check—and with our quick-check guide to tradie insurance, it's easy!