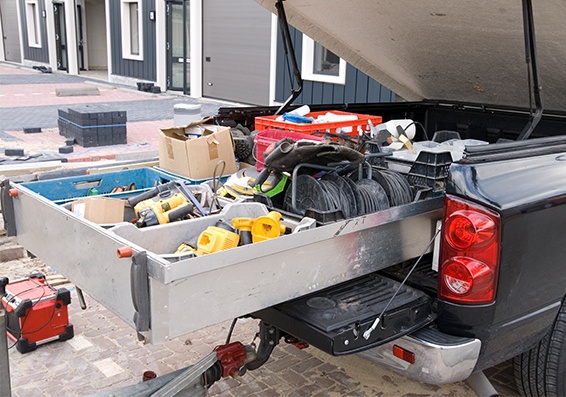 Since the age of 17, Sam Israelson has worked in the trade industry: first as a qualified boat builder, before becoming a specialised builder at the head of his own business. In all that time, he never had an issue with theft. Unfortunately, his lucky streak didn't last.
About Specialist Building Services
Sam is the owner of Specialist Building Services, a small building company with two full-time and one part-time staff. Located in Auckland, he operates across the region installing composite decking and gas fireplaces, along with the odd bit of renovation work.
With his worksite changing from job to job, Sam's work vehicle is more than a mode of transport, it's also his office and toolbox. It is essential to his livelihood.
Under the one roof
In June 2017, Sam and his wife, Ash, decided it was time to review all their insurances—both personal and business.
"We had some with one provider, and others with another," he says. "It was bits and pieces everywhere; we wanted to bring them all together under the one provider."
To help him navigate the world of insurance, they turned to BRAVEday.
"I was very mindful of not being over-insured," Sam says. "And it was important to us that we found someone we could trust. BRAVEday came recommended and Ash, who is an accountant, had previously done some work with them before."
Together they sat down with Dean and Kane to go over their personal and business insurance options.
"When I asked 'what would you do?', Kane gave his honest opinion," Sam says. "He showed me what insurances were best for a business of my size and industry, gave a recommendation, but still allowed me to make my own decision."
Perhaps the biggest surprise for Sam was the cost of tools of trade insurance.
"I'd gone for years without it thinking that it would be too expensive, but it turned out to be quite reasonable," he says.
In hindsight, the decision to get his tools covered was a smart—and lucky—move.
Twice bitten
As it turned out, Sam's insurance review was well timed. A few months later, his work vehicle was broken into and all his power tools were stolen.
"They got in, took the most expensive tools, and locked the van back up again," Sam says. "I didn't realise they'd been stolen until I got to site the next day."
Luckily, claiming for his stolen tools went smoothly. A few receipts and price match at the hardware store and Sam was back up and running again in a few days.
However, that was only the first round. Three weeks later his entire van was stolen—while it was parked in the driveway.
"It was right outside our bedroom window. They hitched the car up to a tow-truck and hauled the whole thing away," Sam says.
Unfortunately after paying out two claims, his insurer exercised its right not to renew the policy.
BRAVEday didn't miss a beat.
"In less than a day, they had organised a new provider," Sam says. "They were excellent."
Fortunately for Sam, BRAVEday was there to ensure the claims was logged quickly and managed efficiently—meaning the disruption to his work was minimal.
"It could have been a lot worse," he says. "Before I met with BRAVEday, I definitely didn't have the right cover as far as my van and tools were concerned. I never thought I'd lose them–especially not once, but twice!"
While the police do their best, tool theft is rife in New Zealand, and Sam doesn't expect to see his old tools, nor his work van, anytime soon. In six months they might reappear, but as they say, life goes on and Sam's business couldn't afford to wait.
"Without insurance, the chance of regaining your tools is almost nil," Sam says. "After being robbed twice in a month, it is now a must."
Even though BRAVEday couldn't prevent the theft or catch the criminals, they did soften the impact the theft had. His business was back up and running in no time, Sam can rest assured that his livelihood is covered and that BRAVEday has got his back.
If Sam's story has made your think twice about the extent of your tradie insurance, download our quick-check guide to make sure you're properly covered.