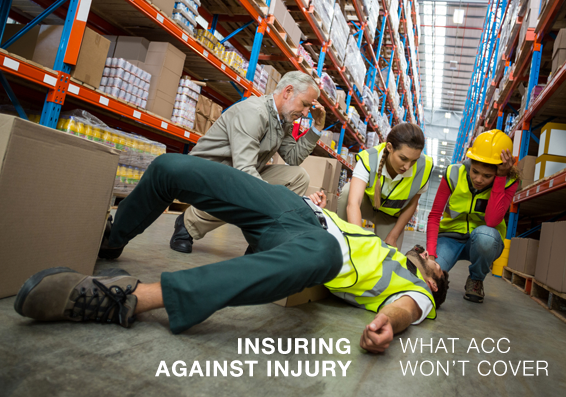 It is more important than ever for trade business owners to have a proactive approach to health and safety and also have the right insurance cover for when accidents happen.
ACC will generally cover accidental workplace injuries to your employees and contractors. However, business owners can still be held liable for, and prosecuted over, accidental injuries if they are found to have breached health and safety law.
Last year, a Wellington builder was fined $60,000 after an apprentice fell from a worn-out ladder and badly injured himself. In a media interview, the builder said that employers were "quite vulnerable" to prosecution. His advice to other trade business owners was to make sure they have the right insurance.
Why previous claim limits may not cut it
The Health and Safety at Work Act came into force in April, 2016, with the passing of the Health and Safety Reform Bill. The government's goal is to reduce New Zealand's workplace injury and death toll by 25 per cent by 2020.
The new legislation has upped the pressure on trade business owners and managers to keep workplaces and workers safe. It has also introduced harsher penalties for breaching health and safety legislation, leaving owners and managers open to costly litigation.
"The new health and safety laws mean a case against you has a higher potential for costs to escalate very quickly," says BRAVEday insurance adviser Kane Butler.
"Previously common insurance claim limits of $500,000 are potentially not enough."
Insuring against injury
Builders, plumbers, electricians and labourers are working in hazardous environments every day. No matter how seriously you take health and safety, injuries are inevitable.
But with the new, rigorous health and safety laws in place, trade business owners need to think more seriously about potential prosecution, fines, and reparation.
Just this year, another Wellington-based construction company was fined $40,000 and ordered to pay $58,000 reparation after a contractor fell 3.9 metres onto a concrete floor, which lead to serious head injuries.
Even though the worker was using a fall restraint harness system on site, a Worksafe investigation found the training and supervision of the harness was inadequate.
Therefore, the company was liable.
What ACC won't cover
Trade business owners can also be held liable for injuries and illnesses that ACC won't cover. This is especially so if a case can be made that the injury or illness came about because of health and safety breaches or other shortcomings at the worksite.
The things that ACC won't provide cover for include:
Illness or contagious diseases.
Stress, hurt feelings or other emotional issues (unless they're linked to an injury you're already getting cover for).
Conditions related to ageing.
Most hernias.
Injuries that happen over time (unless an activity at work is causing it).
Damage to items that don't replace body parts (hearing aids, glasses, pacemakers and gastric bands).
The good news is that there is tradie insurance available to protect business owners in these situations.
"Owners of trade businesses need to ensure that they have comprehensive public liability insurance as well as specific cover to include employees," Kane says.
These are the three types of cover trade business owners should have to insure against workplace injuries and potential court action.
Statutory liability cover
Statutory liability insurance covers the legal defence costs for breaches of health and safety legislation. It's important to note that it does not cover fines imposed by the court. This policy does, however, cover both legal costs and fines for breaches of the Resource Management Act, Building Act, Fair Trading Act etc
Why do I need this cover? It's hugely expensive to defend a claim under a Statutory Act and its often difficult to settle or agree to a fine, meaning that most cases proceed to court to be defended.
Employers liability cover
This covers you if an employee brings civil actions against you or your business for an illness or injury that is not covered by ACC (such as stress, infections and gradually occurring diseases).
Why do I need this cover? If your business has employees, it is a risk. If an employee suffers a gradual work-related injury or illness and subsequently sues your business, could you cover the cost?
Directors and officers liability cover
This cover specifically protects directors and senior executives of companies when they are held accountable for wrongful acts, including health and safety breaches.
Why do I need this cover? As a director, you are responsible for the management decisions made during every working day. While the liability of a company itself is limited, the personal liability of a director or officer in that company is unlimited. When a claim or allegation of wrongdoing arises, your personal assets are at risk.
Employees vs contractors
In terms of your health and safety responsibilities, it makes no difference if your workers are directly employed by your business or self-employed contractors.
The owners and senior managers of trade businesses are now liable for the safety of all workers, whether they are their own employees, a contractor's employees, or self-employed contractors.
Does your trade business have all its bases covered? It pays to check—and with our quick-check guide to tradie insurance, it's easy!