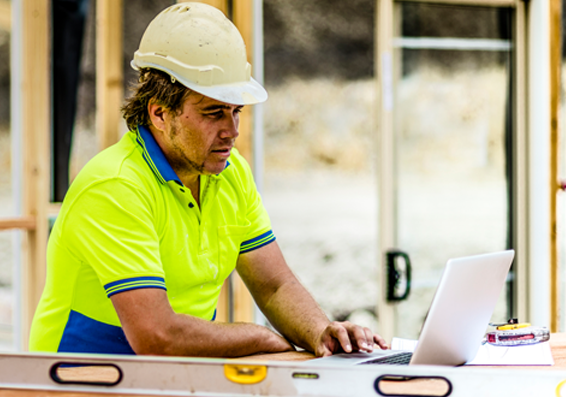 Before the first peg goes in the ground and the first nail is hammered, you need to arrange contract works insurance for your building project.
It doesn't matter how big or small the job is—from minor renovations to a new build—both your contract and the homeowner's lender will require that contract works insurance is in place.
What is contract works insurance?
A contract works (also known as builder's risk) policy is designed to cover sudden and accidental physical loss or damage to the property insured during the construction period.
It protects you and the homeowner from common risks associated with construction, including:
Damage caused by subcontractors to the works—or project.
Theft, vandalism and arson of construction work and materials.
Any damage from natural elements such as storms, floods, hail or earthquakes.
Third party damages or loss.
Whose responsibility is it?
For new builds, the builder or construction company is usually required to arrange the cover.
However, if you're doing renovations or alterations of an existing structure, the responsibility usually falls on the owner.
Contract works insurance is usually arranged on a project-by-project basis, but you can also take out an annual policy.
Annual policies can be a good option if you regularly build new homes within a set price bracket.
What's not covered?
It's important for builders to understand the caveats, exclusions and limitations of contract works cover.
Most contract works insurance policies won't include automatic cover for:
Equipment and tools.
Consequential loss.
Existing property.
Faulty design, workmanship or materials.
What to watch out for
Are your contractors covered?


BRAVEday insurance adviser Kane Butler says it's important to make sure your contractors and subcontractors are included in your contract works policy.





"A lot of builders simply don't address this. This is a major problem because with nothing in writing it leaves the policy open to interpretation and exposes builders to unnecessary risks," Kane says.





"If your subcontractors aren't included, any materials they bring on site may not be covered or any work they do, or issues they cause, may not be covered.

What if construction is delayed?


If you're lagging behind schedule and it's looking like you won't finish the project on time, you must remember to extend the policy.





Kane says it's a good idea to add one or two months more to your policy at the beginning to account for any potential delays.





This will generally cost a lot less than extending the policy later or letting it lapse before construction is complete.

Are existing structures covered?


In most cases, contract works insurance won't cover existing structures on a work site.





For example, damage to structures such as septic tanks, retaining walls and garages, won't be covered by standard contract works insurance.





If you are taking on a project where there's a possibility for significant existing structures to be damaged, you may be able to arrange an extension in your policy by talking with your adviser.

Is cessation of work included?


Most contract works policies won't include cover for loss or damage connected to cessation of work.





This is a grey area and it's important to speak to your insurance adviser about their interpretation of whether or not work has ceased and how they determine whether or not the damage of loss is connected to (or caused by) it.





If you know ahead of time that your project may face delays and there will be times when no work is happening, it may be a good idea to ask about including it in your policy.

Do I need cover for earthworks and foundations?


Builders often assume that contract works insurance is only needed for structural work, not for earthworks and foundations.





However, flooding, slips, and other natural hazards can cause serious damage to earthworks and foundations, so it's important that you arrange cover before you turn the first sod.





Waiting to arrange cover until after earthworks and foundations have been done can actually be more expensive and difficult than doing it at the beginning.
When does the policy expire?
Depending on the terms of your policy, contract works cover will expire on the earlier of:
Practical completion (when everything in the contract is completed and signed-off)
When the owners move in or start using the building
The end date on the policy
You should always make sure that your contract clearly sets out what constitutes the end of the project, or practical completion.
This is important for both the builder and the owner as it determines when contract works insurance ends and when house or building insurance should start.
Does your trade business have all its bases covered? It pays to check—and with our quick-check guide to tradie insurance, it's easy!