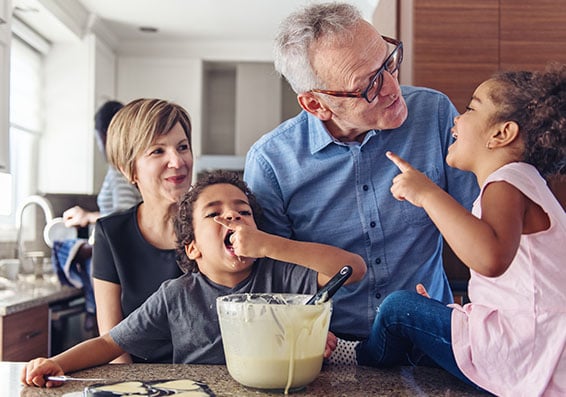 According to research from Perceptive, only 54 percent of Kiwis have life insurance. Probe further, and we discovered that New Zealand has one of the lowest uptakes on insurance cover of all OECD countries. So why do Kiwis seem reluctant to take out a policy?
It comes down to a multitude of factors. Here are the most significant ones that are changing how we approach life insurance.
1. We're starting families later
Life insurance is often considered only necessary if you have dependents. And with many Kiwis choosing to start families later in life, there's been a decline in the number of people applying for life insurance.
However, it's not just your children that life insurance can cover should the worst happen to you—it can also help your remaining family cover funeral costs, mortgage payments and living expenses.
What does this mean for your life insurance?
Taking out life insurance later could mean higher premiums.
Waiting until you are older and have dependents can mean you're at risk of developing health issues that are excluded from your cover or being charged higher premiums due to existing health conditions.
2. Second families are more common
New partners and stepchildren are not uncommon in Kiwi life, but what does it mean for your life insurance? What we're seeing now is people cancelling their life insurance once their mortgage is paid off and their children are no longer dependent on them. Sometimes, they transfer their policies to their children who are better able to afford the premiums. However, there is a growing part of the population who, for whatever reason, separate late in life and unexpectedly find themselves with a second family whom they need to support.
Unfortunately, taking out a new life insurance policy is too expensive given their age and pre-existing health issues that are excluded from the new policy. Because of this, many Kiwis in this situation choose to go without—which puts them and their new families at great risk.
What does this mean for your life insurance?
Structure your policies carefully to ensure your funds go to the beneficiaries you want.
3. Longer lifespans
Since the 1970s, the average life expectancy for New Zealanders has increased from 71.5 years to 81.4. Up until now, the mentality surrounding life insurance was to protect the family in case you die early. Again, once the mortgage is paid off and the kids out of home, what's the need?
However, our longer life spans are forcing us to confront a new reality. Life insurance is also about "protecting the family in case I die late".
As we age, our risk of health problems increases, particularly when it comes to terminal diseases. However, many conditions are treatable and modern medicine can sometimes extend the lifespan and quality of life of a terminally ill person, where they once may have succumbed quickly. Problem is, health and end-of-life care does not come cheap. And with many Kiwis facing retirement without enough superannuation to cover their golden years, a sudden change in circumstances can put financial strain on both an individual and their family.
Life insurance, however, can help cover these costs. More and more, people are looking for insurance options that cover a variety of old-age expenses, such as terminal illness cover to help cover the costs of a nursing home, home care and palliative care.
What does this mean for your life insurance?
Planning ahead is becoming more important. If you wait too long to get cover, you may end up paying high premiums and encounter exclusions on pre-existing conditions you may not have had 10 years earlier.
Plan for the long term. Consider the implications if you are diagnosed with a terminal disease: could you afford to treat it or pay for your palliative care?
4. Shifting priorities
Despite the safety net life insurance provides to families, many Kiwis prioritise car, house and contents insurance over other insurances. Unsurprisingly, this goes against common insurance advice: cover your people (yourself, partners, children, parents), cover your money (income and financial assets, e.g. your house), cover your assets (car and contents), in that order.
We see this shift in priorities particularly in millennials, who are more likely to put funds that could pay for life insurance towards internet access, mobiles or a vacation.
What does this mean for your life insurance?
Contrary to popular opinion, life insurance doesn't cost the earth.
You may get life insurance through your employer, but this may be a lower amount that won't go far should the unthinkable happen.
Consider the long game. Will you be able to afford your premiums at 60? Fixing a portion of your life insurance provides certainty of premiums and locks in long-term affordability.
The older you get, the riskier you are to insure—therefore, the higher premiums you'll pay. To combat this, get your insurance earlier, while you're young and healthy.